Thanks to pre-approved car finance, you don't need to buy a car with cash up front, and you don't need to cover the full cost before signing on the dotted line! This opens the door for many people to pick up the perfect car for their lifestyle and pay it off as they drive.
However, we at Motor Co have found that many of our customers are intimidated by the car finance application process. So, we thought we'd take a minute to break down the application process for anyone feeling hesitant. It's easy, it's quick, and our team is always behind the scenes to make the process smooth for you.
"If we can do all the hard work for you behind the scenes and put you in a car as soon as possible, that's what we'll do." – Simi Kaur, Head of Motor Co's Finance Division
In other words, when it comes to quick and easy finance, we walk the walk.
The Finance Application, Step by Step

Step One:
Go to the Motor Co website and click on the "Apply Now for Finance" button.
This will take you to our finance application page, where you'll be asked to fill in some basic contact details: name, email, and phone number. Once you've entered those, you can either choose to click "Submit Now"—and a Motor Co team member to contact you regarding your application—or you can click "Quick Application" to fill out a full application on the next page.
Step Two:
If you choose the Quick Application option, a finance application will open on the next page and ask you for your financial and living situation details.
Here is everything the application will ask for (make sure you have all the information before applying):
Driver's licence details, including number, type, version, and the expiry date.
Preferred weekly payments, which is how much you would like to pay for the car per week.
Date of birth and residency status (we can work out a plan for people without residency).
Address and living situation (whether you're renting or owning), plus how long you've lived there.
Your financial breakdown (income level, take-home pay, how often you are paid, and how much you currently pay per week in expenses).
Marital status and number of dependants.
How you found us.
Once you've completed the document, there will be a comments section right at the end. That's where you can include any other information you think is important for your application, such as if you have another vehicle being paid off with us, the stock number of a specific car you want to finance, or even the make and model.
Then, just accept the terms and conditions and submit your application. At this point, your job is done! It's over to us from this point on.
Step Three:
We contact you regarding your application or enquiry within three working days, but we usually aim for twenty-four hours. That's what we mean by quick and hassle-free. When we reach you, we'll let you know if your application has been tentatively approved, or whether you'll need to come back at a different time to apply with us.
If you're approved, we'll ask you for some documentation (e.g. payslips, invoices, bank statements) to validate the information you gave us in the application. From there, we process the documents as quickly as possible before moving onto the next step.
Step Four:
The final step is approval! We set you up with a test drive on your ideal car, have you over to the dealership, and you can sign the papers that very same day.
What do you need to know before applying?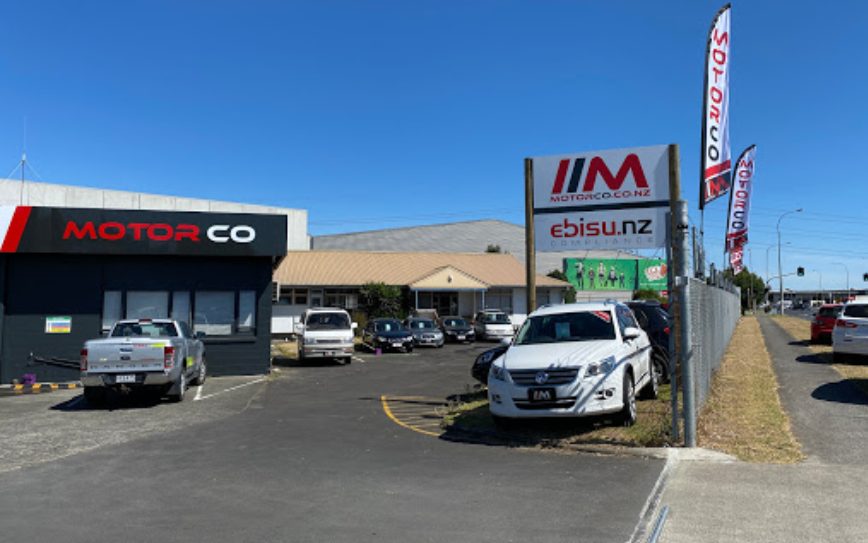 So, now that you have an idea of the process, is there anything you should know before hitting that "Submit" button?
Know our rates. Before applying, make sure your financial situation can handle interest rates within the range of 9.65% to 16.95%. Even if you're not applying with Motor Co, it pays to be aware of the interest rates you'll be signing up for if you're going to buy a used car in NZ.
We work with multiple finance companies. Thanks to our partnership with multiple finance companies, we can work with our customers to find the perfect policy for them. To us, it's not about making "the sell"; it's about understanding what people need and using our connections to help them find it (even if it takes a little more elbow grease on our end).
Know the stock number or the make and model of your vehicle. If you see a car on the Motor Co website that you are specifically applying for, include its stock number in the comments section of your application (this could sway the final decision). If you don't have a stock number, just include your ideal make and model. This will help us connect you to the right set of wheels!
There you have it! While the idea can seem daunting, applying for finance with the right company really can be fast and simple.
Get hassle-free pre-approved car finance with the friendly team at Motor Co.
Looking to buy used cars in East Tamaki or Penrose? Check out the Motor Co dealerships. We do everything we can to make the application process easy. After all, we believe that you should enjoy buying a car, whether it's your first or your fifth! Reach out to our team to get started, or complete an application today!