[Update 20 August] Currently our physical car yards are closed under Alert Level 4, but we are still in operation and our team is happy to help in any way we can (all our staff are working safely from home). If there is a car you are interested in, we can answer any questions over phone/email and accept a deposit to reserve the vehicle and deliver it when the restrictions are eased (we offer contactless deliveries in Level 3).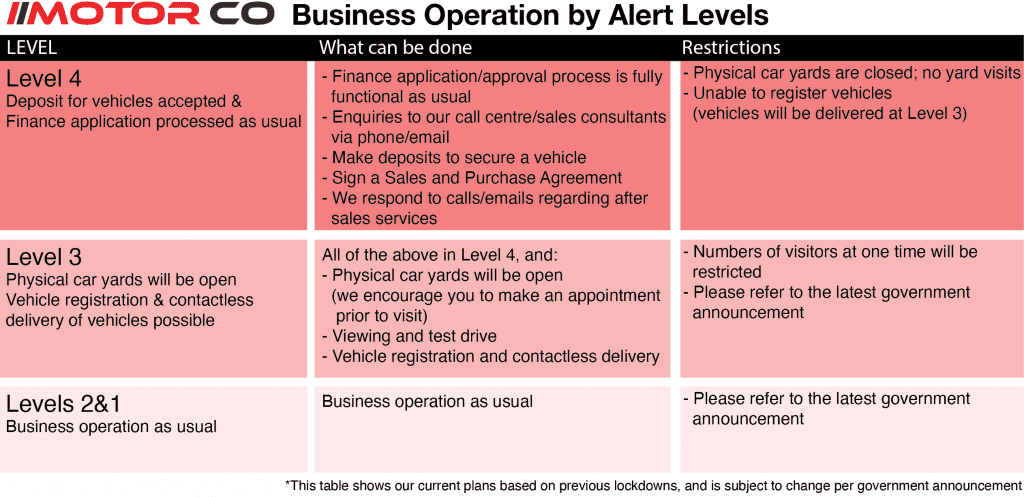 How to reach us
Phone – 0800 818 800 (Daily from 8:30am until 5:30pm) for all enquiries
Email – 
You can also submit enquiries and applications via our website, as well as the live chat or Facebook messenger.
Car sales
We reply to online, phone and email enquiries, please do not hesitate to contact us if you have any questions.
If you are interested in a particular vehicle and would like to reserve it, you can pay a $500 deposit. Our sales team will send payment instructions.
Trade-in enquiries are welcome, please send the registration number, current odomoter, interior & exterior photos to sales@motorco.co.nz. We will appraise your vehicle subject to final test drive and inspection.
Collections and trade-in inspections will be arranged once it is practicable, and restrictions ease up.
Finance Applications
Our Finance and Customer Service team are in full operation, accepting finance enquiries and applications. If you are looking to purchase a car through finance, you can submit your contact details so one of our agents will be in touch to assist you in completing the form. Alternatively, you can complete the application form yourself so we can submit to the finance company for approval.
Our business managers will be in touch via phone and email to provide updates and request further information and documents.
You can still be approved for finance during Level 4, provided you meet the necessary requirements.
Finalisation of loan documents and car collection will be arranged with contactless delivery post lockdown during Level 3.
Workshop
Our service centre/workshop is closed until further notice. 
Our service support staff is available to contact if you have any issues with your car. If the issue is urgent, you can also contact AA for assistance. Appointments for repairs and other services will resume once restrictions are lifted during Level 3.  
This information will be updated accordingly. Take care, stay safe and be kind.